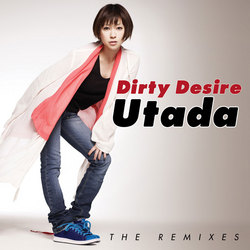 Rickified:
I said Keri's "
I Like
" remix is rather unexpected right, I think the remixes for this song is more unexpected since
Utada
went off the radar after releasing her English studio album early this year. It's a nice early christmas present for me!!! =) Backed by reputable remixers such as
Digital Dog
,
Mike Rizzo
and
Razor N Guido
(
DJ Escape
is rumored to be in the list too), it's definite that the remixes are gonna be HAWT!!! This song is indeed a DIRRTY Desire to me!! =P
Here we have first is the
Razor N Guido Club mix
. It's more to dark house, perfect for the clubs. Everything from the tempo to the structure of the remix is just right. The contents of the song is very suggestive though.
NSFW (Not Strictly For the Weak)
. Plus
Razor N Guido
added an orgasm verse by
Utada
, *shrills*. Haha, quite a surprise though. Overall, a great remix. I guess the remixes of the song serves as a promo for her upcoming US and UK tour early next year. Selected shows!!! Wish I could attend. =(
I'll upload the rest of the remixes when their out. I've previewed a clip of the
Digital Dog
mix and it's worthy to have too. Enjoy!!! =) *Love the cover art too btw*
*Update 1*
The rest of the mixes are out!!! Good Stuff!!! One of the underrated best mixes this year. =)
*Update 2*
Including the dubs
Remixes - Dubs
Remixes
track hosted on mediafire.com